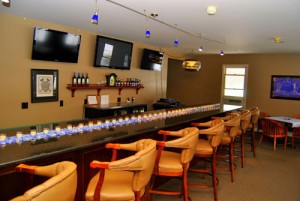 The Cafe at The International or the Cafe at Twin Springs Golf Course and is the perfect location for a casual event. This newly renovated space features a huge granite-top bar with hip blue lighting, cafe tables, outdoor seating on the deck and can seat/stand up to 75 people.
The Cafe is great for a private party after golf, such as a small corporate party, birthdays, fundraisers and bachelor parties.
The menu can be more casual with pizza, pasta, wings or a cookout, along with beer or wine service.
Twin Springs Golf Course is a great place to hold your birthday party, company picnic, or small function. We can host up to 80 people outside in our barbecue area or 50 inside the Cafe'. We'll be happy to work with you for any type of event you would like to conduct, whether that includes playing golf, hitting balls at the range, or playing frisbee.